Little Man LOVES playing dress up! He loves hats to be more precise – and he has an abundance of them. …And those hats take up LOTS of space. So I looked into purchasing an over-the-door hat rack and found that most of them cost $20 and are not made for the plastic fireman style hats that he loves so much – the ones that I could find are made for baseball caps.
So I decided to make one that will work for his hats (and accommodate his baseball cap collection too) using office supplies!
I bought a few packs of book binder rings a while back (certain that I would find a use for them someday! Ha!) for about $1.50/5 pack & a couple of packs of badge clips (with a plastic strap attachment) for $1.50/10 pack. The amount you will need depends upon how long you want it to be (how many hats you have to hang). I also used a plastic over the door towel hanger that I already had around the house.
I attached one badge clip to each book ring using the plastic snap. Then I looped the book rings onto each other, creating a chain.  Slip the end of the chain onto the over the door hanger, hang on the back of a door, and clip your hats on!
Worried that you're going to have to unhook the hats every time your child wants one? Don't! Little man just turned 4 and can easily open the clips on his own.
I think Little Man will be much happier if I add a few extra rings at the top to make it longer (so he can actually reach all of his hats), but I'm definitely pleased with my prototype!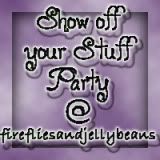 Related posts: